TERESA CASTRO PEREIRA DE SCHÖNBORN-WIESENTHEID

Teresa is the head at Casa Cadaval. She is descended from the Portuguese General Nuno Alvarez Pereira, conqueror of the Battle of Aljubarrota which took place on August, 14th 1385. In April 2009 he was canonised by the pope.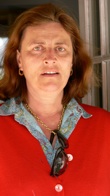 Teresa Castro Pereira is the fourth female head of CASA CADAVAL in a line that stretches almost 200 years. Casa Cadaval has been owned by the Schönborn family since 1648 and Lusitano horses have been bread here for 250 years. Casa Cadaval is one of the most traditional manors located close to the old Roman road that runs between Evora and Lisbon. On 5400 hectares of land at Muge, both red and white wine grapes are grown and an internationally respected wine is produced. Wild black Iberian boar and Merulengos, a Iberian cattle breed, are also bred, surrounded by huge cornfields, a sawmill and a cork-production with around 1000 cork-oaks.
The fact that Casa Cadaval has been managed by women with personality for so many years has given the company and its staff a certain type of spirit. But the women who held these positions, particularly in those times when such an important position was not often held by a woman, have shaped the company by their experiences and taken on jobs that were ahead of their time. Teresa's mother, grandmother and great-grandmother, for example, all set social standards which were very unusual in most Portuguese manors in the 19th and 20th century.